SIE: Connecting, Innovating, and Giving Back
We hope this newsletter finds you in good spirits! This month, we are thrilled to share the exciting experience we had as hole sponsors at the 47th Annual Golf Tournament hosted by Associated Builders & Contractors (ABC). It was a fantastic opportunity for us to connect, network, and showcase our commitment to the construction industry.
Participating in industry events like the ABC Golf Tournament holds immense importance for our company. It allows us to actively engage with fellow professionals, build relationships and stay updated on the latest trends and innovations within the construction sector. As a hole sponsor, we were not only able to contribute to the success of the event but also maximize our presence and make valuable connections.
The event brought together a diverse group of industry leaders, contractors, suppliers, and service providers. The atmosphere was vibrant and filled with enthusiastic golfers, all sharing a common passion for construction and business excellence. We had the pleasure of meeting and networking with professionals from various backgrounds, fostering new connections, and strengthening existing partnerships.
As we have emphasized in previous newsletters, networking is an invaluable aspect of professional growth and business development. It enables us to exchange ideas, share experiences and explore potential collaborations. The ABC Golf Tournament provided us with a platform to connect with decision-makers, discuss industry challenges and explore opportunities for mutually beneficial partnerships. We were delighted to have meaningful conversations, learn from others' experiences and showcase our expertise in commercial and industrial construction.
Moreover, our involvement as hole sponsors gave us enhanced visibility throughout the tournament. It provided an excellent opportunity to showcase our brand, values and commitment to delivering exceptional services.
At SIE, we value the importance of networking and community involvement. Engaging with industry peers helps us stay at the forefront of industry advancements, forge new partnerships and ultimately deliver better value to our clients. We are excited about the connections we made at the ABC Golf Tournament and look forward to nurturing those relationships in the days ahead.
As always, we remain committed to providing exceptional commercial and industrial construction services to meet your needs. Thank you for your continued support, and we look forward to future opportunities to connect, collaborate, and make a positive impact together.
Giving Back to the Community through Baby2Baby's Summer Success Program
As a company dedicated to giving back to the community, we believe in the value of paying it forward and making a positive impact on the lives of those in need. That being said, our team was thrilled to participate in Baby2Baby's Summer Success Program—an initiative that aims to support children and families in underserved communities during the summer months.
Partnering with Baby2Baby was an easy decision for us, as the Summer Success Program focuses on providing essential items, educational resources and enrichment activities to children during the summer months. By participating in this program, we had the privilege of contributing to the well-being and success of these young individuals and their families.
Our team actively engaged in collecting and donating a range of items, including toys, school supplies, books, and summer essentials. These donations were carefully chosen to ensure that children have access to the resources they need to thrive academically, creatively, and emotionally during their time away from school.
As we continue to grow as a company, we remain steadfast in our commitment to giving back. We recognize that our success is intertwined with the well-being and success of the communities we serve. It is our privilege and responsibility to support initiatives like the Baby2Baby Summer Success Program and make a difference in the lives of those who need it most.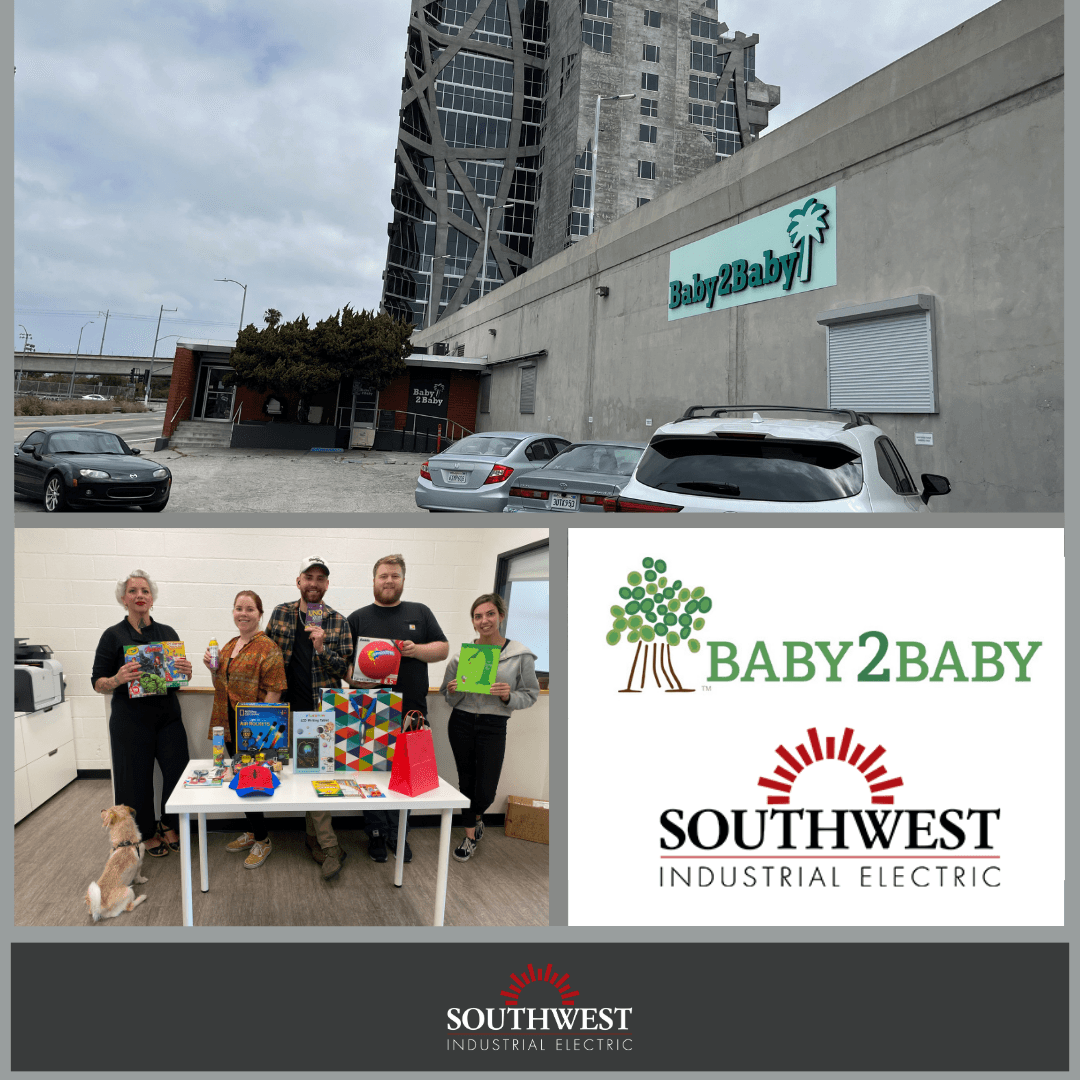 Importance of Finding a Reliable Commercial & Industrial Electrician
Greetings SIE community,
In the bustling world of commercial and industrial construction, general contractors (GCs), facility managers, and project managers hold a pivotal role in ensuring successful project outcomes. From the initial planning stages to the final execution, they are responsible for overseeing multiple trades and coordinating various specialized services. Among these critical services, the selection of a reliable commercial and industrial electrical services company stands out as a key decision.
The electrical systems within commercial and industrial settings are the lifeblood of operations. From powering machinery to lighting up workspaces, a reliable and efficient electrical infrastructure is essential for smooth and uninterrupted productivity. Here's why:
Expertise and Experience: Reliable electrical services companies bring valuable expertise and experience to the table. They possess a deep understanding of the intricacies involved in commercial and industrial electrical systems. Their knowledge allows them to identify potential challenges, propose innovative solutions and navigate complex installations with precision.

Safety First: Electrical safety is of paramount importance in any construction project. A dependable electrical services company prioritizes safety protocols, adheres to industry standards and implements rigorous safety measures.

Seamless Project Coordination: Collaboration and coordination are vital aspects of any construction project. A reliable electrical services company understands the importance of seamless integration within the project timeline. They work closely with GCs and other trades, aligning their activities to minimize disruptions and meet project milestones effectively.

Quality and Reliability: Consistency and reliability are crucial when it comes to electrical services. Partnering with a trusted company ensures high-quality workmanship, durable installations and dependable electrical systems. This translates into fewer callbacks, reduced maintenance costs and enhanced client satisfaction.

Cost Efficiency: Reliable electrical services companies strive to deliver cost-effective solutions without compromising quality. They understand the significance of staying within budget constraints while meeting project requirements.
At Southwest Industrial Electric, we recognize the significance of reliable commercial and industrial electrical services. We pride ourselves on being a trusted partner, committed to delivering exceptional electrical solutions. Our team of experienced professionals brings extensive expertise to every project, ensuring safety, efficiency and reliability at every stage.
When managing a project, it is crucial to conduct due diligence when selecting electrical services companies. Look for reputable providers with a strong track record, positive client testimonials and a demonstrated commitment to quality work. Investing time and effort in finding the right partner will pay off in the form of smooth project execution, satisfied clients and successful outcomes.
Meet The Team: Aaron Espinoza
Meet Electrician Aaron Espinoza. Aaron joined Southwest as the warehouse manager. He became interested in the technician role when he helped at one of the solar installation sites. He enjoyed it so much that he ultimately decided he wanted to follow the career path of an electrician. Aaron also enjoys using the trade outside of work by wiring and constructing things at home.
What do you enjoy most about your job?
"What I enjoy most about my job is the wide variety of jobs we do and the new skills I constantly learn. One week I'm at a Solar job in Oxnard working in a forklift and next at a Battery Energy Storage job digging trenches."
Testimonials From Our Recent Work
"Southwest Industrial Electric's service was excellent. I'm grateful to the technicians that came out. They were kind and understanding. We were originally referred by someone else and now I have saved Southwest as my go-to electricians for future work." – Anne
We are Full Service Industrial and Commercial Electrical Contractors. We can help with any electrical needs including Machine Service & Repair, Control Systems, Industrial Automation, Power Distribution, PV, EVC and BESS installation. We have managed thousands of projects for over 40 years, earning the trust of our clients and community through excellent execution and results.
Happy Memorial Day from Southwest Industrial Electric