Los Angeles Commercial EV Charger Installation
Commercial Electrical Vehicle Charger Contractor in Los Angeles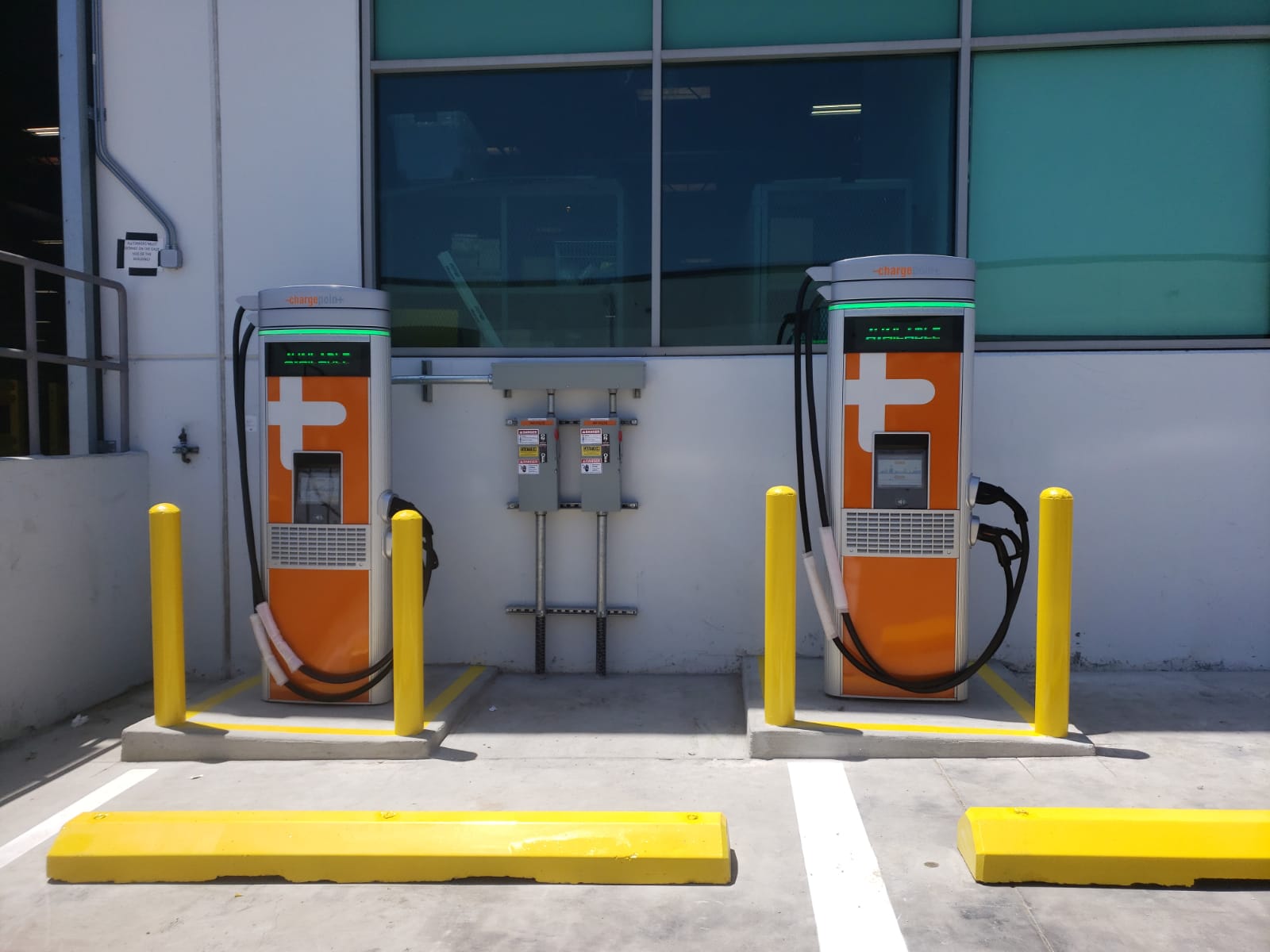 ​
As the demand for electric vehicles continues to grow and the technology powering their advances, the need for a way to charge these vehicles increases as well. When you need commercial EV charger installation in Los Angeles, our team at Southwest Industrial Electric is prepared to work with you and help you find the perfect solution for your needs.
Our commercial electricians are fully licensed and have years of experience installing all types of EV chargers for a variety of businesses. Whether you have commercial EV chargers that need to be installed on your property, or would like to move an existing charger and have it be reinstalled, we can handle it all and ensure it's all up to code.
Take a look at our client reviews and see why we are the safest and most trusted commercial electric vehicle charger installation contractors in all of Los Angeles.
Your company could have a charging station that is ready to use whenever you need it! Give us a call today at (323) 215-1273 or contact online to get started.
How to Choose the Best EV Charger for Your Business
Just as there are many types of electric vehicles, there are many types of chargers as well. Finding the right charger for you will mean determining what your vehicle needs, as well as what your existing electrical system can handle.
Electric vehicle chargers are broken up into three main categories:
Level 1 charger: This simple unit is usually included with the purchase of your electric vehicle, and plugs into a standard 120-volt outlet. Depending on the capacity of your vehicle's battery, it takes around 12 hours to reach a full charge. This is a good option for those who do not spend much time driving, but may not be ideal for those who are more on-the-go – particularly here in Los Angeles.

Level 2 charger: The next step up allows for much faster charging, with vehicles reaching a full charge in 4-6 hours. However, because they require 240 volts to operate, installing one of these systems may also require you to upgrade your property's electrical panel.

Level 3 Charger: The top tier of electric vehicle chargers, also known as a DC Fast Charger, will have your electric vehicle battery topped off in the amazing time of 30 minutes to an hour. The level 3 charger may be unnecessary for most homeowners who drive less than 30 miles a day, but are the perfect fit for businesses that need to keep their electric vehicles operable throughout the day.
What Are the Benefits of Installing EV Charging Stations for Your Business?
Are you trying to decide whether installing electric vehicle charging stations in your business is a good idea? For starters, charging electrical vehicle fleets is a tremendous business opportunity! It offers an opportunity to lift revenue spent by selling more electric power and charging infrastructure, and by also providing services that support the charging of EVs. It can essentially help fleet operations to decrease costs by using and managing energy in more efficient ways.
Some key benefits to installing commercial EV charging stations include the following:
May help you earn revenue by taking advantage of state and local incentive programs and rebates.
May help you decrease overall costs
Get ahead on an upcoming trend and business opportunity
Demonstrates leadership and exhibits your commitment to sustainability
Simplify maintenance (EVs have fewer and less complex parts that may help to lower overall lifetime operation and maintenance costs.
May motivate customers to stay longer
Increases your commercial property's value
May help to attract a larger array of customers (such as eco-conscious customers or customers driving electrical vehicles)
Reach out to our team of commercial electricians today to learn more about the many benefits that come with installing electric vehicle charging stations for your commercial or industrial business today!
How Long Does It Take to Charge a Tesla?
Tesla is one of the most popular electric cars on the market today. With the company constantly innovating and producing newer models, the charging time for each car differs. The 2021 Tesla Model Y takes around10 hours to charge at 220V. The Model S needs around 96.7 hours. It's important to check the model and battery type of the Tesla to know for sure how long it will take to charge.
Given the popularity of Teslas, it's important for businesses to have charging stations that help this car. If you're interested in installing an EV Charging Station at your business, contact Southwest Industrial Electric today.
Helping Businesses Charge Energy Efficient Cars
No matter what you end up choosing, our team at Southwest Industrial Electric will be here with you every step of the way. We are extensively experienced and can help you ensure that installation is seamless and your electrical system is able to handle the increased load.
Related Reading
Give us a call at (323) 215-1273 or Contact us online today to learn more about our Los Angeles electric vehicle charging station installation services!
Join Our Team of Commercial Electricians
We reward our hard-working and dedicated staff with some of the best perks and incentives you'll find anywhere! Learn more about how you can join our team. We look forward to hearing from you!
Why CHoose southwest?
We're Committed to Providing the Quality Your Business Deserves
Full Service Company

Honest, Fair Pricing

Quality Work Every Time

Free Estimates Available

Available 24/7 For Current Customers

40+ Years of Experience