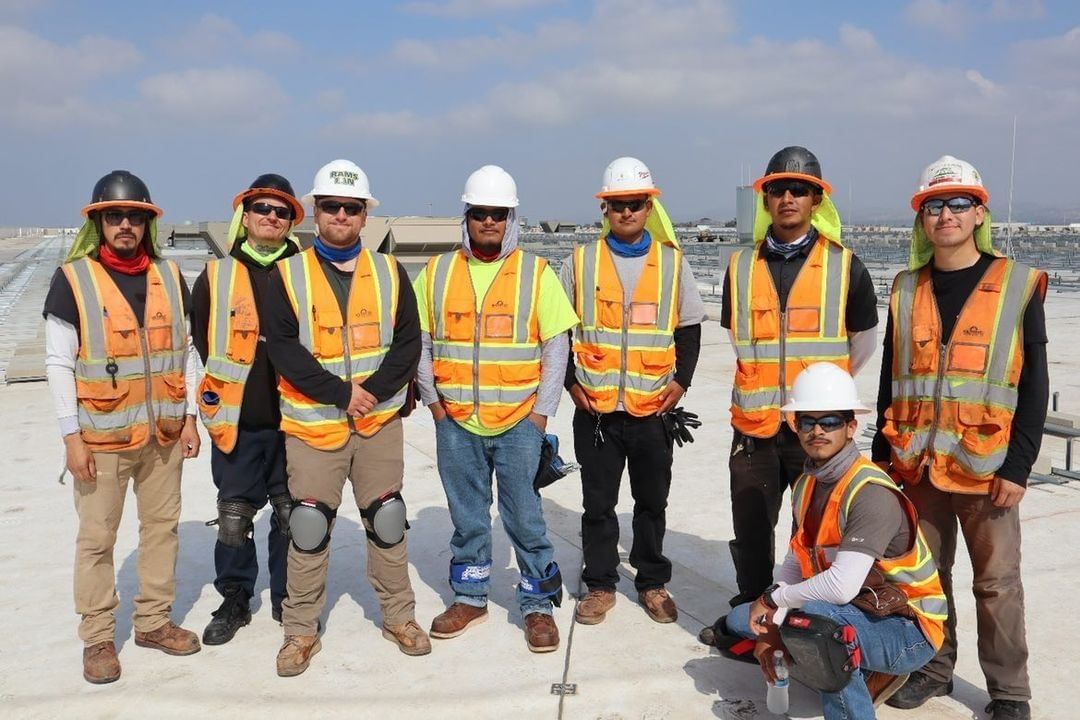 ​
2020 changed the world forever. Questions such as how we work or even who to work for have been in contention during these pandemic years. Now more than ever, it's paramount to look at key drivers and what motivates us all daily. Humans of the Trades is an organization dedicated to just that. They highlight those that work as tradesmen in order to create a platform to help share their stories. Last month the good-news outlet, via IG, asked SIE to give a statement on what being a blue collar worker meant to us and what we hope to share with the future generation. Here is our answer.
"At Southwest we believe in core values such as dependability, maximizing production and helping others. This is a message we try to share with the next generation. To work hard consistently and help others when possible. These values are intrinsically tied to what we feel the term "blue collar life" means. We show up, find the problem, and we get the job done." – Southwest Industrial Electric
As a leading electrical services company, Southwest Industrial Electric must continue to evolve to adequately represent its public. We strive to stay connected with the community, celebrate the success of others, and bolster team spirit. It's our vision to become the leader in commercial and industrial electrical contracting in the US. We hope by participating in activities such as these, we are leading by example.
We'd like to give a special thanks to the HOT team for featuring us and look forward to seeing more good news. @humansoftrades
Southwest Industrial Electric | July 2022 Photo Contest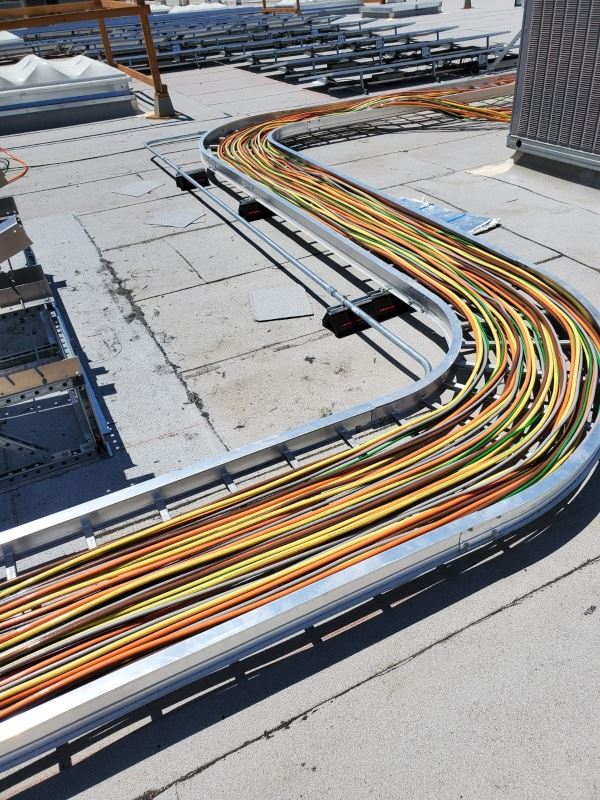 (Cable Tray - Chris P.)
(Battery Storage – Nick R.)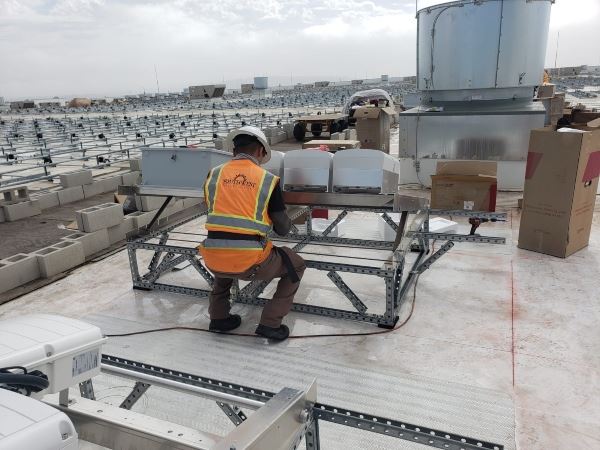 (Inverter Rack – Juan M.)
In the second month of our photo contest, things are continuing to heat up. The summer is a busy time for tradesmen and the most important piece of any trade or service company are the technicians. They produce the product, have direct contact with the client, and essentially are the legs of any work that gets completed.
We hope to continue building our following and to continue supporting and recognizing the amazing work of our electricians. This month's winners were chosen based on the overall number of likes and interactions each photo garnered on social media.
Check out our winners!
3rd Place Juan M. – Inverter Rack
2nd Place Nick R. – Battery Storage
1st Place Chris P. – Cable Tray
Southwest Industrial Electric | 4 Signs of an Electrical Problem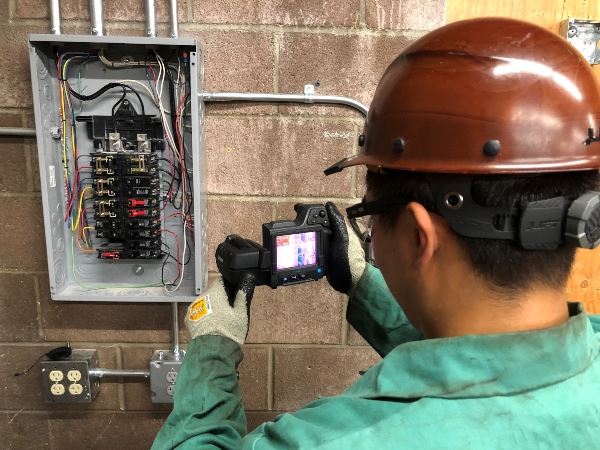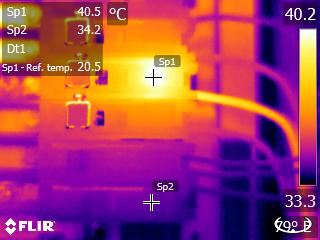 Understanding how to spot signs of electrical issues on your industrial or commercial site could keep you and your company free from potential electric shock and fires. California alone paid more than $2b in damages last year due to electrical fires. Here are some tips to keep your company safe from electrical problems.
#1: Tripped Circuit Breakers.
It is normal for circuit breakers to trip periodically. To keep your business safe, they are designed to turn off the power if the system is overloaded, or if it senses a short circuit. If the overload is cleared, the breaker can just be switched back on, but if you are noticing that it keeps tripping, there is an issue that must be resolved. A professional electrician should troubleshoot and repair the issue to ensure it does not escalate. If you have a breaker or an outdated electrical panel, it is best to have an electrical preventive maintenance inspection by an electrician to help diagnose possible problems.
#2: Flickering Lights.
If you hear buzzing in the lights or have lights that regularly flicker when you turn them on – especially if you are running machinery or multiple pieces of office equipment at the same time – there may be a problem with your electrical wiring. When your lights flicker for seemingly no reason at all, it could indicate that the circuit is overloaded, that there is a poor connection that could also cause over-
heating or sparking, or that there is a problem with the light fixture or electrical switch.
#3: Electrical Outlet Issues.
If you touch an electrical outlet and it feels hot or warm to the touch, it is best to stop using it and call an electrician immediately. Outlets should never be warm or hot and if there are signs of scorching or burning, this could mean that there are melted wires or a bad connection. Both are signs of a serious safety issue.
#4: Damaged Wiring.
Have you noticed frayed or damaged wire, or electrical work that is clearly defective? Preventing damage from occurrences such as rodents and general wear & tear, is one way to keep your electrical wiring intact. If you notice any wires that show any metal, or there are dangling wires, there might be a problem that needs to be addressed. Most of all, resist the urge to try to fix any electrical problems yourself. It always pays off being safe and vigilant when it comes to electrical safety at your business. Attempting to tackle the problem by yourself could be dangerous and make the situation worse or more expensive in the long run.
For more information or to hear more click this link!
Meet The Team: Ian Rodriguez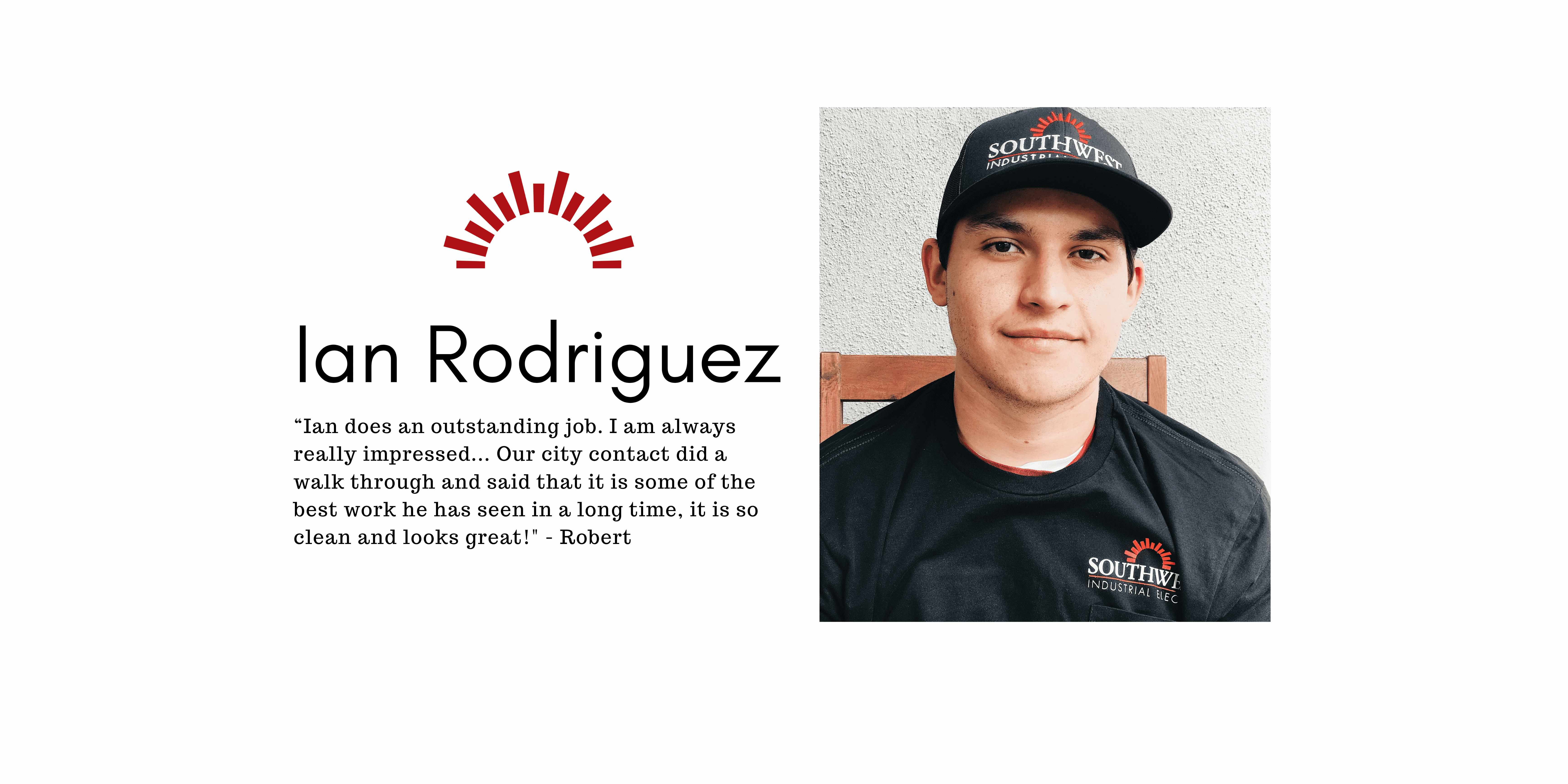 Ian has been working with Southwest as an electrician going on 3 years. One thing that attracted Ian to this position was his curiosity for electricity, which burgeoned after reading about Nikola Tesla and the AC electrical system.
What do you enjoy most about your job?
"My favorite part of my job is that I get the chance to learn something new every day, whether it's how to get jobs done more efficiently, or a cool fact about electricity."
Testimonials From Our Recent Work for July
"Your service was great, and your customer service was great as well. We appreciate you guys fitting us in on the schedule so quickly. I have already asked your tech Steven if I could get a quote on more work!" - Shahid
"Your tech Doug Crosby did an excellent job troubleshooting our conveyor belt problem. I also found that your customer service team supported us in resolving our issues from start to finish. Immediate answering of phone calls so no telephone tag and I haven't had any adverse feedback, so my understanding is that YOU HAVE A FANTASTIC TEAM!!" - Lucy