Southwest Industrial Electric | Expos | January 2023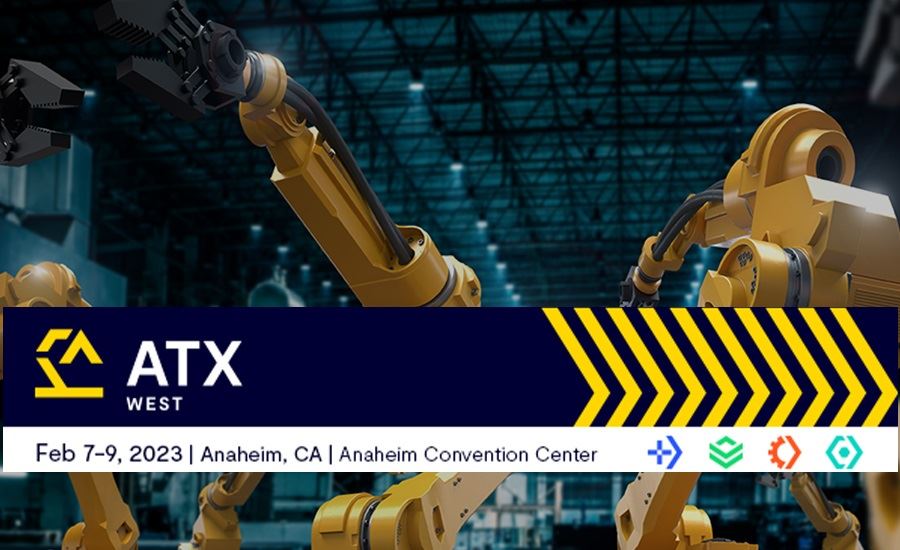 Figure 1 – ATX West 2023
Events and Expos
Attending Trade Shows and Expos in 2023: The Importance of Networking and Staying Up-to-Date
As the world slowly emerges from the pandemic, it's more important than ever for businesses to be proactive about their future success. Attending trade shows and expos can provide a unique opportunity to connect with potential clients, partners, and competitors in your industry, all while keeping up-to-date with the latest trends and innovations.
Networking Opportunities: Trade shows and expos are the perfect platform to connect with other industry professionals and build relationships. This can lead to valuable partnerships, collaborations, and even customer acquisition. You never know who you might meet and what opportunities may arise.
Staying Up-to-Date: Trade shows and expos are often the first place new products, services, and technologies are introduced. By attending, you'll have access to the latest information and advancements in your industry, allowing you to stay ahead of the competition.
Opportunity to Promote Your Business: Trade shows and expos provide a captive audience of potential customers and partners. You can showcase your products or services and demonstrate your expertise in your field. This can lead to increased brand awareness, leads and even sales.
Opportunity to Learn: Many trade shows and expos offer educational seminars, workshops, and keynote speeches. You can attend these events and learn from experts in your field, gaining valuable insights and knowledge to apply to your business.
Overall, attending trade shows and expos can be a valuable investment for your business. Not only do they provide a platform for networking and staying up-to-date, but they also offer opportunities for promotion and learning. So, make sure to mark your calendar for the upcoming trade shows and expos in 2023 and start planning your attendance today!
One major goal in 2023 for Southwest Industrial Electric is to get face to face with our public. We started out by exhibiting at a few well known expos in 2022 and intend to double down on our efforts this year. First up for us was IPC Apex in San Diego. Held at the San Diego Convention Center in the heart of the city, this event was a blast. We met with manufacturers from all over the country and got a first hand look at new and emerging tech. Piggybacking this, SIE is making efforts in the month of February to showcase some of our premier services such as industrial automation, turnkey EVC, and battery energy storage systems.
Running February 6 – 7th, ATX West – one of the largest gatherings of professionals from aerospace, defense, electronics, medical and much more – will host over 1500 exhibitors. This is a great opportunity to build relationships with manufacturers within our service area while highlighting unique services such as our machine service & repair, along with our control systems capabilities.
February 14th – 16th we will have a booth at Intersolar North America at the Long Beach Convention Center. Intersolar is the meeting ground for all things green energy and is considered one of the most informative networking events to attend for those looking to build rapport with other companies in the renewable energy space. Given its international reach, we expect to see numerous companies present their solar, EV, and battery storage products and services.
Trends in the Commercial & Industrial Space
Advancements in Renewable Energy: With a growing emphasis on sustainability, there is likely to be a continued focus on the development and implementation of renewable energy sources such as wind, solar, and hydro power. Electrical contractors will be at the forefront of these efforts, installing and maintaining these systems.

Increased Demand for Automation in the Workplace: The popularity of automation in factories is likely to continue to grow in 2023. Electrical contractors will be in high demand to install control systems for machines, smart thermostats, security systems, and lighting control systems.

Expansion of Electric Vehicle Charging Stations: With the increasing popularity of electric vehicles, there will be a push for more charging stations to be installed across the country. Electrical contractors will play a crucial role in the installation and maintenance of these charging stations.

Focus on Energy Efficiency: As energy costs continue to rise, there will be a continued focus on energy efficiency in both residential and commercial properties. Electrical contractors will be involved in retrofitting older buildings with more energy-efficient systems and appliances.
These are just a few trends in the electrical contractor industry for 2023. Keep an eye on these developments and be prepared to adapt to the changing needs of the industry.
Benefits of EVC in the Commercial & Industrial Space
Increased Sustainability: By offering EV charging options, businesses can demonstrate their commitment to sustainability and reducing their carbon footprint.

Attracting and Retaining Customers: Offering EV charging options can attract and retain customers who are environmentally conscious and own EVs.

Cost Savings: By reducing the need for fossil fuels and decreasing dependence on traditional gas stations, businesses can save money on energy costs in the long run.

Improved Employee Satisfaction: By offering EV charging options to employees, businesses can improve job satisfaction and retain employees who own EVs.
Increased Property Value: Installing EV chargers can increase the value of a commercial or industrial property, making it more attractive to potential tenants and buyers.

Competitive Advantage: By offering EV charging options, businesses can differentiate themselves from competitors and gain a competitive advantage in their industry.

Generating Revenue: Businesses can generate revenue by offering paid EV charging options to customers and employees.
In conclusion, installing EV chargers for commercial and industrial businesses can lead to a range of benefits from attracting and retaining customers, to generating revenue and improving employee satisfaction. Investing in EV charging infrastructure is a smart move for any business looking to stay ahead of the curve and contribute to a more sustainable future.
For more information or a quote on your EV projects, contact SIE for turnkey EVC solutions and don't forget to ask how to choose the best EV charger for your business!
EVC Extra Information:
Just as there are many types of electric vehicles, there are many types of chargers as well. Finding the right charger for you will mean determining what your vehicle needs, as well as what your existing electrical system can handle.
Electric vehicle chargers are broken up into three main categories:
Level 1 charger: This simple unit is usually included with the purchase of your electric vehicle, and plugs into a standard 120-volt outlet. Depending on the capacity of your vehicle's battery, it takes around 12 hours to reach a full charge. This is a good option for those who do not spend much time driving, but may not be ideal for those who are more on-the-go – particularly here in Los Angeles.

Level 2 charger: The next step up allows for much faster charging, with vehicles reaching a full charge in 4-6 hours. However, because they require 240 volts to operate, installing one of these systems may also require you to upgrade your property's electrical panel.

Level 3 Charger: The top tier of electric vehicle chargers, also known as a DC Fast Charger, will have your electric vehicle battery topped off in the amazing time of 30 minutes to an hour. The level 3 charger may be unnecessary for most homeowners who drive less than 30 miles a day, but are the perfect fit for businesses that need to keep their electric vehicles operable throughout the day.

Meet the Team:
Timothy Pawlowski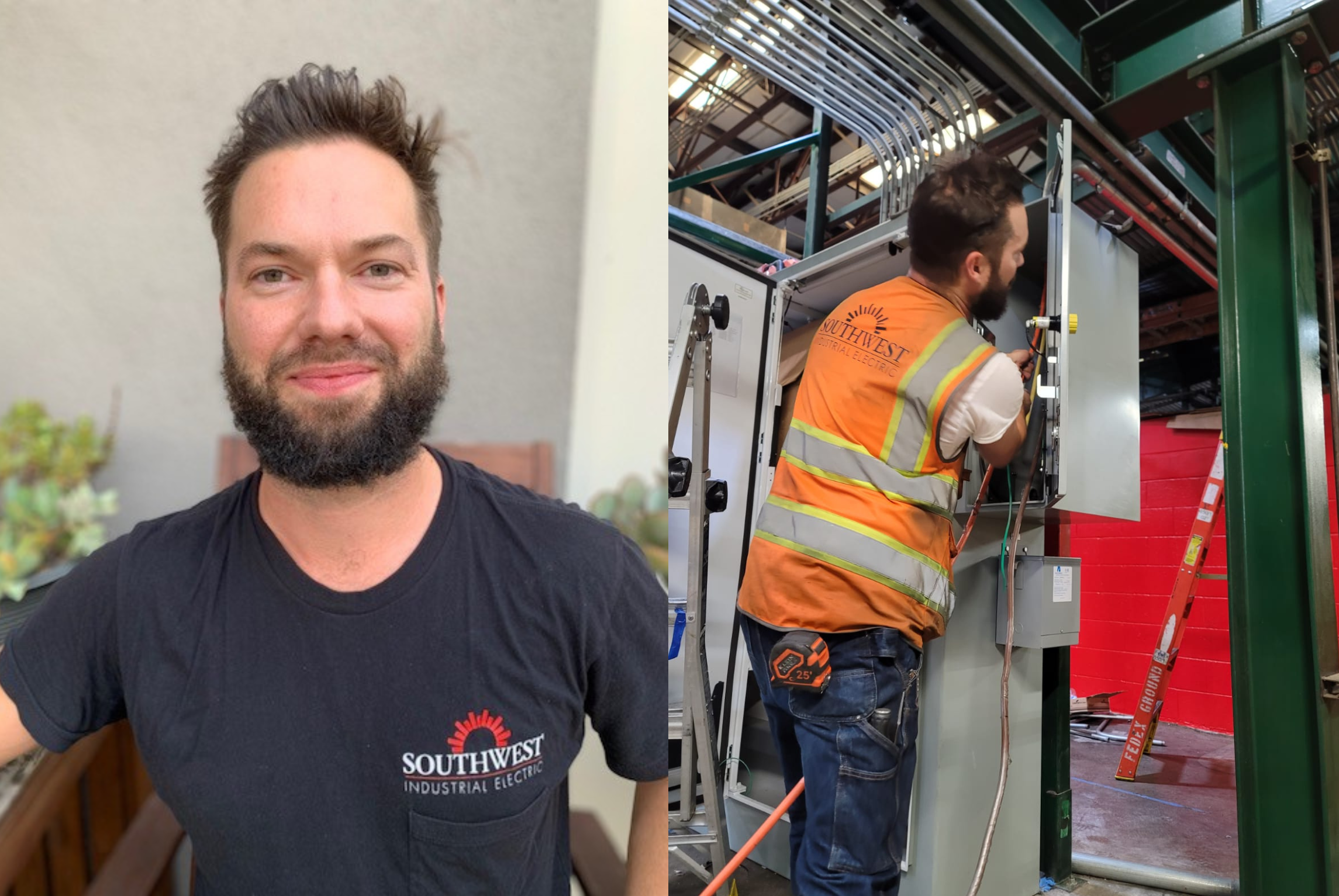 Meet Foreman Timothy Pawlowski. Timmy joined electrical union 134 in Chicago right out of high school, he has always had a knack for taking apart electronics since he was young. Timmy has been working with Southwest as a lead electrician for years and recently shifted his role to join our awesome team of technical sales reps. This change will allow him to use his years of experience in the field to help customers find the best solutions, tailored to their needs.
What do you enjoy most about your job?
"I very much enjoy the variety of interesting projects at SIE and expanding my knowledge of electrical applications and installations. From rocket ship facilities to automated warehouses and industrial production, the variety is challenging and inspiring."
Testimonials From Our Recent Work for January
"The service was great; we had an issue with our transformer and Timmy did a great job. We are very satisfied with everything. Thanks for calling in and following up with us." – Jason
We are Full Service Industrial and Commercial Electrical Contractors. We can help with any electrical needs including Machine Service & Repair, Control Systems, Industrial Automation, Power Distribution, PV, EVC, and BESS installation. We have managed thousands of projects for over 40 years, earning the trust of our clients and community through excellent execution and results.