Southwest Industrial Electric | AEMS EXPO | Construction Today | November 2022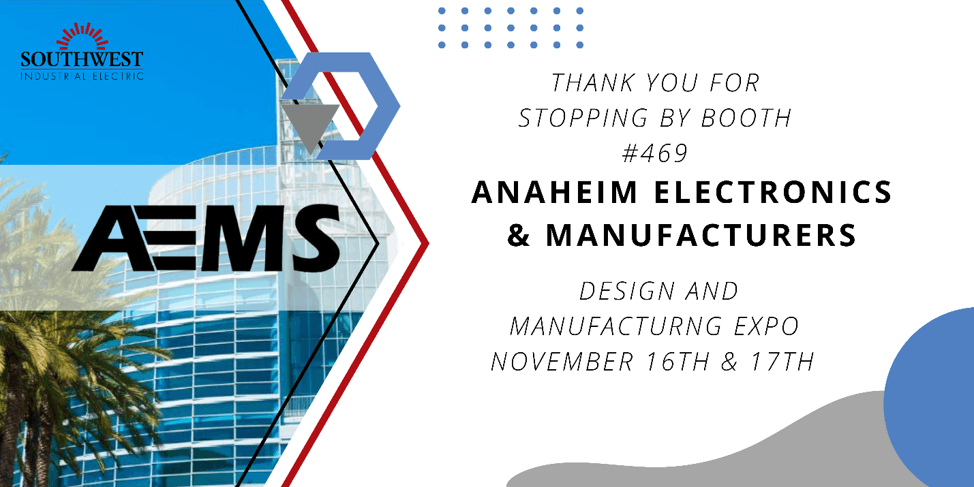 As the holidays keep rolling, we hope you all had a Happy Thankgsgiving from Southwest Industrial Electric!
Aside from food and festivities, November was a busy month. We attended the Anaheim Electronics & Manufacturers Expo in Anaheim, CA. This expo brought out manufacturers of various products from all over the county. As a local event, SIE sent our exhibition team to booth and showcase several services such as Automation & Controls Systems, Power Distribution, and Machine Service & Repair. The event was great fun as they had free refreshments and an awesome jazz band played at the mixer. We are looking forward to attending more local events and building rapport with other commercial & industrial companies here in California.
For more information about our services and areas of operation, feel free to contact us at 323.255.6563 today!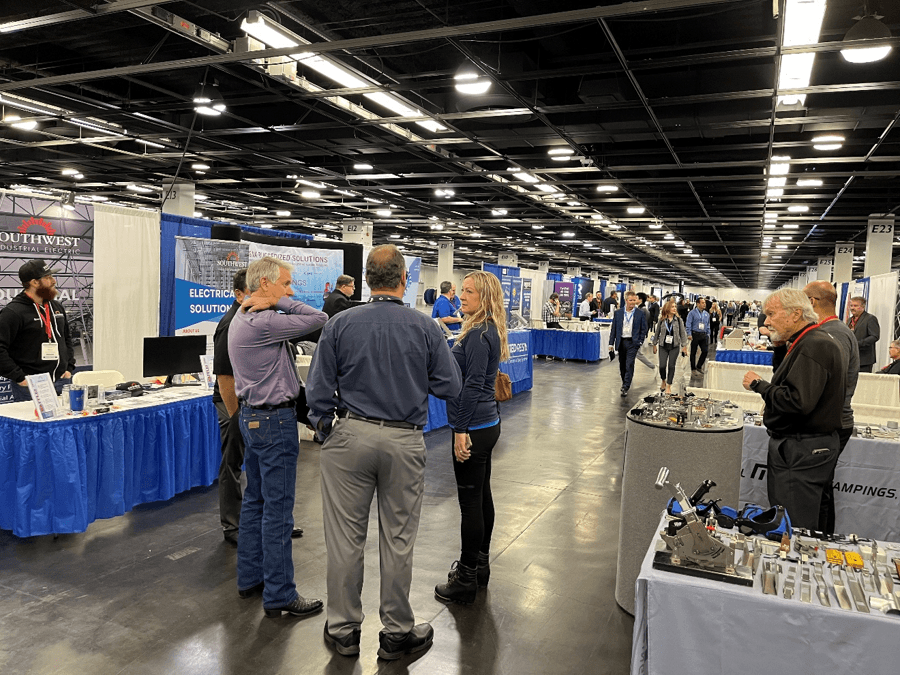 As a leading electrical services company, Southwest Industrial Electric must continue to evolve to adequately represent its public. We strive to stay connected with the community, celebrate the success of others, and bolster team spirit. It's our vision to become the leader in commercial and industrial electrical contracting in the US. We hope by participating in activities such as these, we are leading by example.
We'd like to give a special thanks our vendors, partners, and staff for helping us achieve another year of growth. Cheers to many more!
Southwest Industrial Electric | Construction Today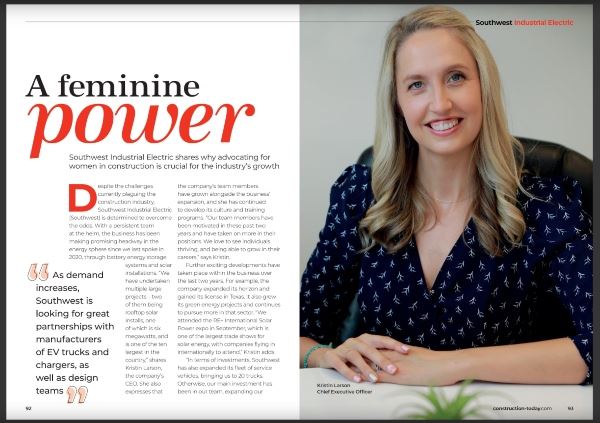 This year was significant. Significant for us as a company because day to day, we focus on key concepts such as, quality of service, maximizing production, and providing dependable solutions to our public. But an overarching goal of any business is to somehow never lose sight of the long game that builds your story. This month we had the opportunity to sit down with Construction Today and discuss just that. Intrigued by both our social & professional commitment to the public, our CEO was asked to give a statement.
Our CEO, Kristin Larson, started at Southwest Industrial Electric over 17 years ago in tech services. Since then, she has steamrolled ahead of her peers, leading the company into its most profitable years, providing key solutions to clients and guidance to the team. One inherent stance we have as a company is the want to diversify not only our workforce but the importance of getting more women into a male dominated industry like electrical construction.
Kristin discussed various topics such as challenges, company growth, and important goals & projects on the horizon. Click the link or photo to read more.
According to a study by McKinsey & Company, gender diverse companies are 25% more likely to achieve above average profitability than companies with less diversity.
The Institute for Women's Policy Research (IWPR) reports that the number of women in construction has had steady increases, with a jump of 17.6% in 2017 – 18 and incremental increases every year since.
NAWIC outlines that 44% of women currently working on construction projects work as managers and around 28% work in sales and office roles.
Southwest Industrial Electric is a proud member of NAWIC (National Women in Construction) and ABC (Associated Builders & Contractors). We hope to continue building our story, advocating for the public, and providing the safest quality installations.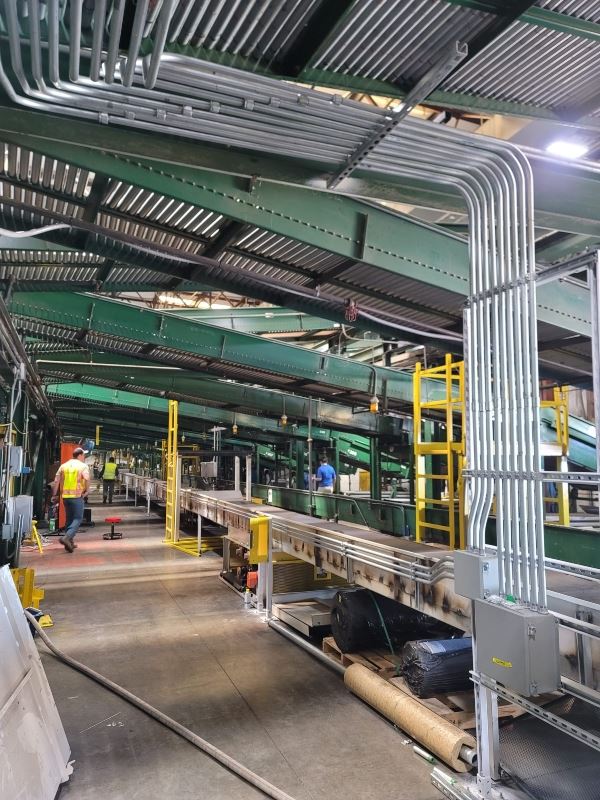 1st Place Site - MHS | FedEx Distribution Factory Electrical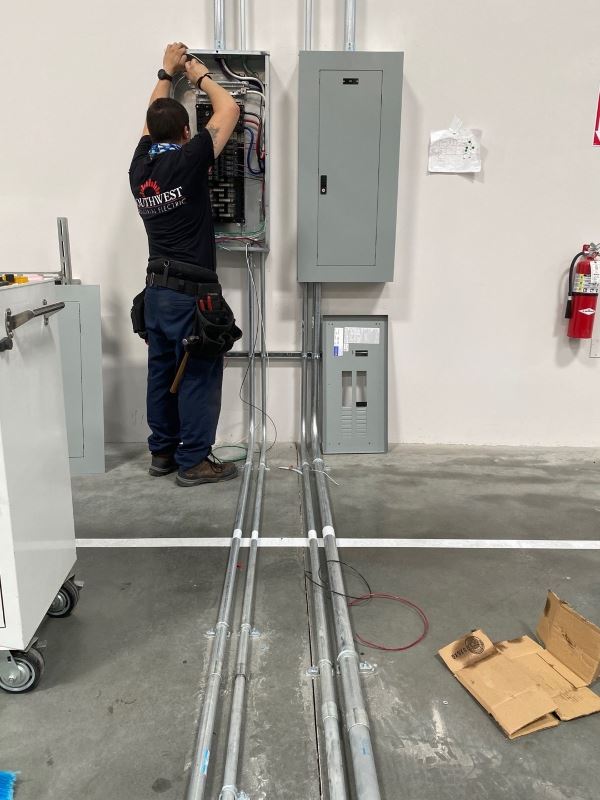 2nd Place – Power Distribution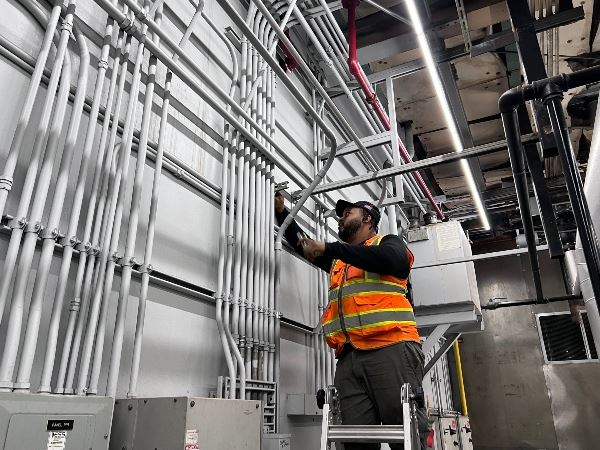 3rd Place Site – Bonduelle Job Site
Southwest Industrial Electric | November Photo Contest 2022
Back from hiatus, November's SIE Photo Contest was a hit! Individually each of the photos featured garnered over 2500 impressions, not to mention the likes & shares.
We hope to continue building our following and to continue supporting and recognizing the amazing work of our electricians and staff.
Check out our winners!
3rd Place Frank R. – Bonduelle
2nd Place Timmy P. – Power Distribution
1st Place Sean H. – MHS | FedEx Distribution Factory Relocation
The Journey of a Free Estimate
When you call a full service industrial or commercial electrical contractor like Southwest Industrial Electric, you may qualify for or request to receive a free estimate. We provide free quotes for projects with known scope. This is mostly for installations but can also include repairs when the scope is known. If you qualify to receive a free estimate, here is the journey your free estimate will make before it is delivered to you.
First, someone from our sales team will gather all the information regarding what you need quoted and your ideal timeline (Figure 7 below). In most cases, we will set up a site visit with you for one of our technicians to perform a job walk. In the case where you are able to provide drawings, or enough information is available for SIE to quote without a walk, we will quote from the office.
Next, one of our Tech Estimators will come out and perform the job walk we scheduled. During the site visit, our Tech Estimator will collect complete and exact information on the scope of work for your project. Closing the gaps on any details we need to quote the requested work. After the site visit, our Tech Estimator will work on creating your estimate for the scope of work collected during their visit.
Lastly the Tech Estimator will contact you to review the complimentary estimate, completing the journey of your quote.
If you are looking to complete a project or upgrade your electrical, call 323-255-6563 to request a free quote.
For more information or to hear more click here
Meet The Team: Carlos Flores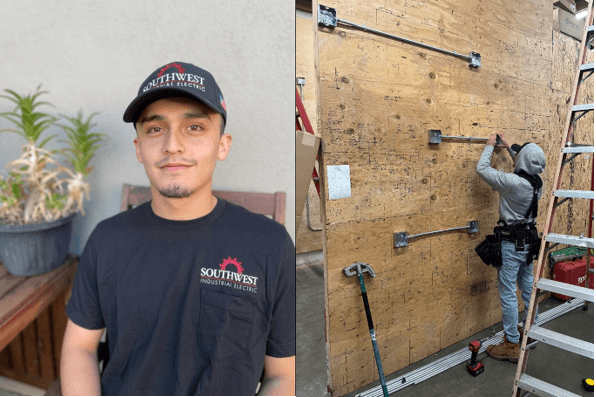 Meet one of our newest crewmembers, Carlos Flores. Carlos has been working with Southwest as an electrician since summer of 2022. What attracted Carlos to this position was his love of all things electrical and a genuine interest in learning how electrical worked. Since the electrical industry is continuously growing, he enjoys the vast opportunity for expansion it offers and that there are always new things to learn.
What do you enjoy most about your job?
"What I enjoy most is being able to work with so many other skilled electricians here at SIE. I'm able to master my craft, while continuing to learn in a growing industry."
Testimonials From Our Recent Work for November
"Your service was great, and to my knowledge, there hasn't been any issues since we had you guys out. I really appreciate you guys helping us out on short notice. I have saved your info and we will reach back out as soon as we need anything" - Christian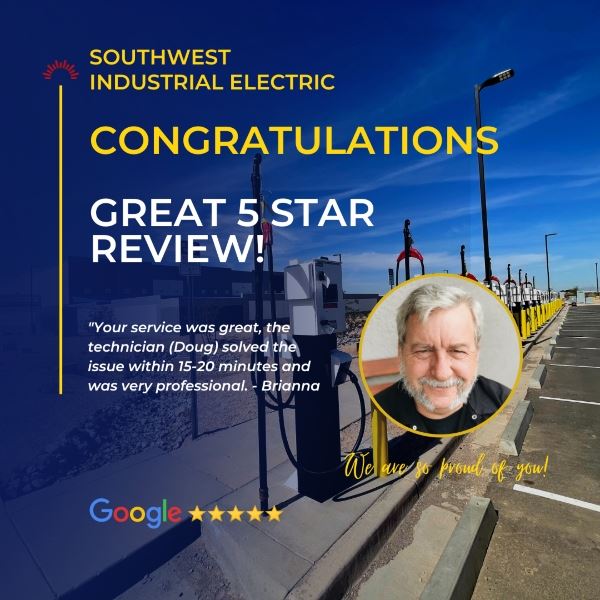 Figure 3 - 5 Star review